Hello Everybody!
This is the last call to sign up for the amazing class from Karen Burniston
that is happening next Friday night. Karen is flying in, so she needs to have a final total to make up all of the kits before she leaves home. If you want to join this class,

you MUST CALL by the close of business tomorrow (June 5th).
If you are unable to come to the class -Karen will be here in the afternoon on June 12 for afree demo from 3pm-5pm. This is a great chance to see how her interactive dies work and get some tips for working with them.
Special Guest Instructor
Karen Burniston from Elizabeth Crafts Designs
6pm-8pm $35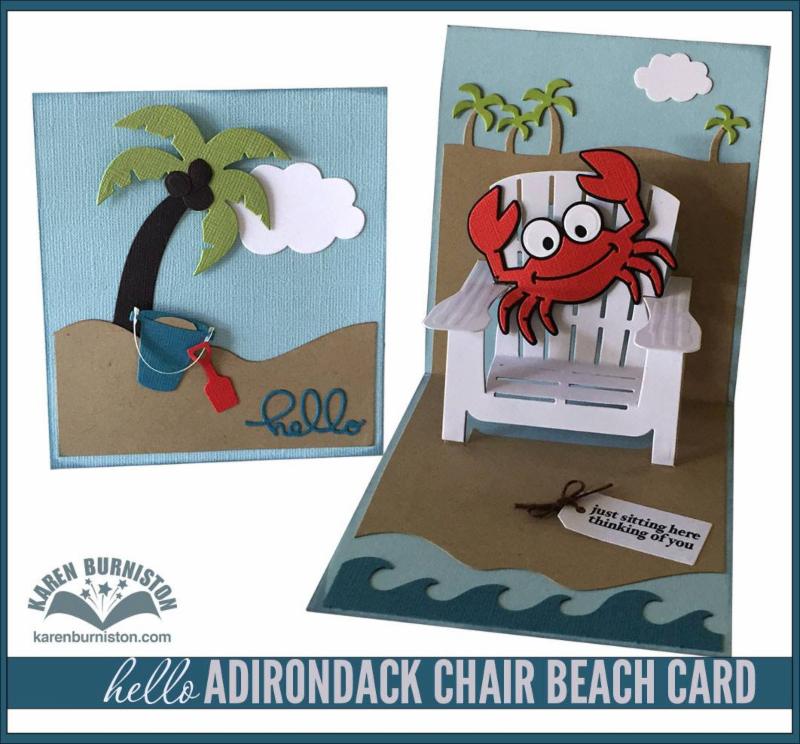 CLASS DECRIPTION: Join Karen Burniston to make three interactive pop-up cards using Pop it Ups dies from Elizabeth Craft Designs. You will make cards using the Adirondack Chair, Barn Pop Stand and Rectangle Pull Card dies. Learn all the tips and tricks for using these innovative wafer-thin dies to make impressive cards. You don't want to miss the chance to learn from the die designer herself, plus Karen comes with hundreds of display cards that you are welcome to photograph for inspiration. Everything will be pre-cut in the kits to keep the focus on learning how to assemble the pop-ups. Karen will demonstrate how the pieces were cut and you can also familiarize yourself with the dies by watching her videos. Blog:
http://karenburniston.typepad.com
Please bring these tools to class:
Scissors
A variety of adhesives - tape runner, fine tip liquid glue, pop dots, mini glue dots, Paper piercer
Optional: inks for inking edges. I show my cards "clean" but they will look great with ink.
Optional: markers or colored pencils for coloring the words on the greeting label.
Optional: smart phone or camera for taking photos of the hundreds of sample cards on display
Please note: We have a no refund cancellation policy for guest instructors. If you are unable to attend a class you have paid, for you may send a friend in your place or pick up a class kit (if available) after class.
See Below for Guests in July
***************************************************
Kristen has been busy making pop up graduation cards in the school colors of all of the area schools. These are available for purchase.
She has also been putting together plans for Kids Kamp this summer so be on the lookout for information on that.
***
UPCOMING CLASSES:
This Sunday- June 7 from 1pm-3pm
Learn how to use Elizabeth Crafts Designs peel-off stickers and glitters. Register TODAY!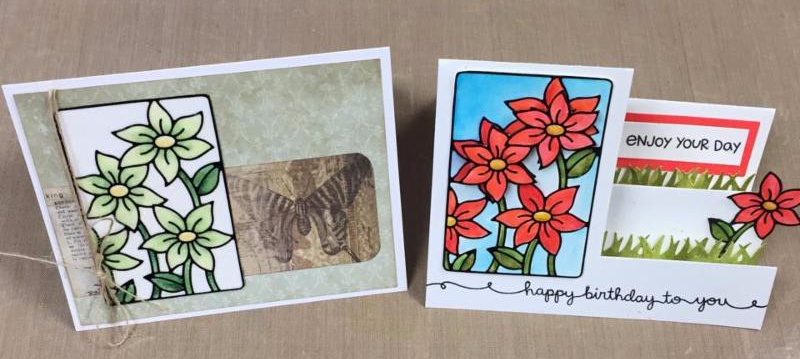 Elizabeth Crafts Class
Sun., June 7
1pm-3pm
$28
Beginner Zentangle
Sat., June 13

****
SOLD OUT****
10am - noon
$35 includes all materials
(We are looking to add another date soon)
Zentangle: Beyond the Basics
Sat., June 13
1pm- 3pm
$35 please bring your basics kit.
Learn the 6+ Tangle Enhancers to embellish, create flow and balance in your work. Working on various sized tiles and including the new Bijou tiles you will add flare to your Zentangle work by learning to integrate the most common tangle enhancers. In addition learn various shading techniques to create depth and perspective in your tangles. Bring your basics kit (Micron Black 01 and pencil). All other supplies will be provided. Prerequisite Zentangle basics class. $35.00 -2 hours
Dinner & Cards
Friday, June 19
6pm-8pm
$28 includes dinner.

A great night out with friends! Come and relax and learn new techniques. This month will feature Gelatos.
SPECIAL GUEST:
SALLY LYNN MACDONALD
Saturday, June 20, 2015
Join Sally Lynn for 3 remarkable workshops, guaranteed to get your creative juices flowing!
Water Colorations
June 20, 10am-noon $28
In this informative hands-on workshop, we will explore Art Anthology's Colorations sprays and my line of Palettini rubber stamps from Technique Junkies to discuss how to mix colors and color theory while creating a beautiful, feminine 12×12 scrapbook layout or basis for an art journaling page. Using Prima printed watercolor paper as our backdrop, customize your embellishments and make it uniquely yours. Get watercolor confident and gain skills you can use on all your creative projects!
Floral Brushstrokes
June 20 1pm-3pm $28
Using rubber stamps from my Palettini line from Technique Junkies and dimensional paints from Art Anthology's Velvet and Sorbet product lines, we will create three cards reminiscent of the impressionist painters. Create a Sunflower, Gerbera Daisy and Orchid greeting card, using texture tools and paints that are sure to make them a Gogh-to tool for your creativity!
Key to your Dreams
June 20 4pm - 6pm $30
Imagination is the key to unlocking your dreams. Learn the key basics of unlocking your jewelry creativity with U/V resin to create near-instantly wearable jewelry pieces! Layer stamped images from my line of Palettini rubber stamps from Technique Junkies, charms and words in the slide bezel to suit your style. Decorate the bezel using a variety of mediums from Art Anthology. Learn basic jewelry-making skills, using jump rings, loop-making and assemble the completed necklace to wear out of class.
**************************************************
Special Guest: Kathie DeLuca
Saturday, June 27th
Class Description:
Join Kathie as she walks you through step by step to create four beautiful, multi­dimensional cards. You will begin with stamped & embossed images from Tim Holtz's Nautical Blueprints stamp set, and then learn some water-coloring techniques using Distress Stains to bring these stamped images to life. Once you have water­colored the images you will mount them on card bases along with Authentique's Seaside collection of amazing papers to create these mini works of art.
This class is for any level card maker.
Class Description:
During this class Kathie will show you how to create a masterboard. You are the master artist of this one of a kind masterpiece! The cool thing about this process is that we will explore several mixed media techniques such as embossing, the use of Decofoil, and then explore the use of stencils using several different mediums. We will use this masterboard to create several greeting cards, however, the process itself can be used in art journaling pages as well.
This class will be presented in a step by step process and is
designed for the beginner or the experienced mixed media artist
. Join Kathie for this exciting class!
Class registration can be made in person or by calling (860) 684-2641
All classes must be pre-paid at the time of registration.
Your spot is not held until payment is received.
Cancellations must be made 48 hours in advance of class time.